We are proud to service Altamonte Springs, Apopka, Bella Collina, Belle Isle, Casselberry, Celebration, Chuluota, Clermont, College Park, Conway, Davenport, Debary, Deland, Deltona, Disney area, Doctor Phillips, Edgewood, Eustis, Fern Park, Geneva, Heathrow, Kissimmee, Lake Buena Vista, Lake County, Lake Helen, Lake Mary, Longwood, Maitland, Mount Dora, Ocoee, Orange County, Orlando International Airport, Sanford Airport, Osceola County, Oviedo, Pine Castle, Poinciana, Polk County, Reunion, Saint Cloud, Sanford, Seminole County, Universal Studios, Walt Disney World, Windemere, Winter Garden, Winter Park, and Winter Springs.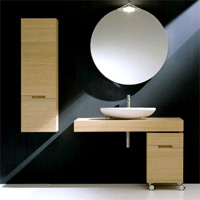 It's amazing how many forms this simple and crucial bathroom fixture can present itself in. Because there is so much variety, researching a bathroom sink for your next remodeling project can be dizzying or fun. Getting the right information beforehand can prepare you for the challenge, making the process enjoyable, and ultimately, taking you a step closer to your ideal bathroom. The following prototypes encompass the general selection of bathroom sinks available.
Choose the one that works best for your particular space and personal taste. Also, keep the style of your bathroom faucets in mind.
Self Rimming: Many standard sinks take on this appearance and style. Self-rimming sinks are mounted above the counter and have a visible rim.
Undermount: These sinks do not have a rim and portray depth, as they are installed beneath the countertop. Wall-mounted faucets match undermounted sink types well.
Pedestal: These free-standing sinks are mounted on their own base. Because they are not attached to the counter, pedestal sinks can be great for small bathrooms.
Vessel: Vessel sinks have an nice, old-world quality about them. They sit on top of the counter like large bowls or vessels, with pre-drilled holes at the bottom to mount the faucet.
Console: Console sinks stand on their own support legs and are similar to pedestal sinks, except they include a small amount of counter space.
Vanity Tops: Vanity top sinks are single pieces combining the sink with the countertop. Their edges typically hang slightly over the edge of the cabinet they are placed on.
Vanity: These sinks are built into a counter, which is mounted on a cabinet with or without drawers. Bathroom vanities have several components that engender a variety of shapes and styles.
Wall Hung: Wall hung sinks save space and can be mounted directly into the wall at any height.
One way to acheive the expression of luxury in your bathroom space is to choose an incredible and unique faucet. The most important thing to remember however is that the plumbing for the faucet must match the sink that you choose as well. Not all faucets and sinks work together so if you are set on a certain faucet, be aware that you may not get the sink of your choice as well!
Like bathroom sinks there are many varieties of faucets to choose from in several materials, finishes and designs. Although cost can be a deciding factor make sure to consider the life expectancy of a faucet. Since faucets are meant to work with water it is wise to make sure the working parts of your faucet can handle it.
Not all faucet types work with every sink basin. Standard faucet drillings are widespread, center set or single hole:
Widespread Faucet Sets: have a spout with separate hot and cold water handles. All pieces appear to be separate. Widespread faucets are available from 6" to 16" drillings for three-hole pre-drilled installation basins.
Center Set Faucets: (mini-widespread) are made for 4" pre-drilled with three-hole installation basins. They combine a spout and valves on a single base unit. A center set faucet set may have a single handle mixing lever or two handles mounted onto a 6" plate.
Single Hole Faucets: have a spout and a single mixing handle all in one for single-handed control. Single lever faucets require one-hole drill installation basins. Some brands of single lever faucets have an optional 6" cover plate for pre-drilled 4" drill installations.
Wall-mounted Faucets: are available for above-the-counter and freestanding basins that require a long spout for extended reach. Wall-mount faucets require a separate wall-mount valve and drain for installation. Make sure the spout is long enough for adequate basin clearance.
There are many considerations to be made when remodeling a bathroom:
Do you want a luxurious, spa-like space?
Do you want a more intimate room?
Will there be two people sharing the room or five?
Best Plumbing & Remodeling can help guide you through the many choices involved in bathroom renovations to create the perfect ambiance and functionality for this personal space.
Best Plumbing & Remodeling will assist you through your bathroom remodeling project – from initial consultation to completion – with expert advice and superior construction. We run a very clean job site and strive to minimize the inconvenience caused by bathroom remodeling projects.
Contact Us Today to schedule your FREE Bathroom Remodeling Consultation.
We look forward to working with you to design and construct the perfect bathroom for your home!